Investing in Great Technical Support
We strive to provide a personalized customer experience that is commensurate with the quality of our services.
Our support offerings go well beyond simply assisting our customers, we help you keep on top of changing business demands by facilitating beta testing, creating and managing knowledge base material and tracking trends.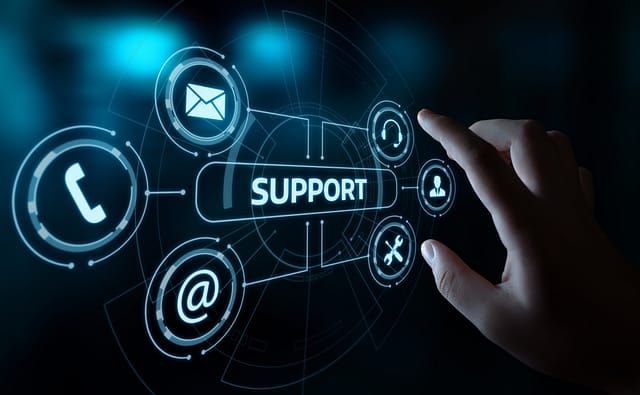 Collaboration Services
We provide effective communication and collaboration infrastructure (including video conferencing and telepresence) to improve communication in your organization.
Offerings
Video conferencing solutions
Traditional telephony over IP solutions
Customer interaction Centre (contact centre)
Telecom expense management solutions (Telephone Billing Solution)
Unified Communications As a Service "UCaas"
Contact Centre as a Service "CCaas"
Security Services
We provide and maintain infrastructure to meet policy, compliance, performance, availability and capacity requirements. We offer outsourced, cloud-based, and hybrid security infrastructures across vendors and platforms, covering people, processes, technology, and threat insight.
Offerings
Email Security as a Service
Managed Email Gateway
Managed Firewall
Managed Intrusion Detection and Prevention Service
Managed Web Application Firewall
Real-Time Threat Management as a Service
Vulnerability Management
End User Mobility Services
We offer and support mobility applications as well as their supporting infrastructures (personal computers, mobile devices, applications, hardware, and software).
Offerings
End-user support
Active Directory support
Exchange support
Office 365 support
Google Suite support
End-user licence procurement
Professional Services –Lync, BI project
Enterprise Agreements (Microsoft Licencing)
Network Services
We deliver multi-vendor operational management of network infrastructure, including software-defined WAN, carrier management, Data Centre network, security device Document is Public management, and wired and wireless LAN for optimized performance and reduced cost of ownership.
Offerings
Wired and Wireless Network Support
Hybrid Wide Area Network (WAN) Support
Data Centre Networking Support
Network Performance Optimization Support
Software Defined Networking (SDN) support
Advanced Infrastructure Services
We offer technologies that support your Data Centre's and office environment such as cabling, power, access control, UPS, air conditioner, fire suppression system, and Environmental Monitoring System (EMS).
Offerings
Office Automation/Kit-out Solution Suite.
Data Centre Operations Support & Facilities Management.
Data Centre Upgrades and Builds.
Support to meet your company's need 
We recognize that today's businesses rely largely on Information Technology (IT) to drive business processes and achieve success.
It is our duty and interest to provide high level support of servers, workstations, software, intranet, internet and other devices/systems running on IT Infrastructure.
We are out to help our clients achieve their vision in line with current technology trends, improve productivity, and reduce operational cost on infrastructures.